Jenna and Jenn: Soul Mates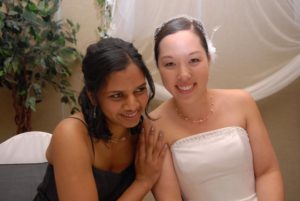 Jenna Shummoogum: communications and marketing specialist
Best friend of 16 years: Jenn Pastirik, animal technician, died ... of cancer in 2014 at age 29
"Jenn and I shared the same soul, just in two separate bodies."
How did you meet?
Jenn and I met when we were both in 7th grade. It was a brief meeting but we shared art class together, which is actually quite fitting since we shared a passion for art throughout our friendship. I then transferred to another school and we didn't meet again until high school. We hung out with the same group of women. We really connected the summer of 10th grade and became fast friends. We just spoke the same language. She was in my head. I would think something and look over at Jenn and know she would be thinking it too. Usually, for Jenn, it was something dirty. She had a filthy mind and it was just natural to her, which was an amusing aspect of her personality.
What was the friendship like?
Jenn and I would talk and talk and talk for hours on end. I remember one time when we were back in high school, we met in a coffee shop while my mom was out running errands. We talked about us having kids with our respective husbands and growing old together. My mom walked in a while later and asked the server if we had chatted the entire time.
We referred to each other as PIGS or Partners in Grime. Every Valentines Day Jenn and I would write explicit Valentines cards for all our friends. Jenn got married to her high school sweetheart when she was 22. I was her maid of honor. For her bachelorette party we went pole dancing, had dinner and went to a club. I drove her back to her place at 2:00am, but we stayed in my car talking until 5:00am. Her mom was like, "You were out THAT LONG?" but then found out that Jenn was actually done at 2:00 in the morning and said, "You were talking to Jenna weren't you?"
My speech at her wedding talked about how good she and her husband were for each other and how I technically got them together. She graduated from the University of Calgary and moved to Sylvan Lake with her husband for a year. I was still in Calgary. We would communicate on email and have phone chats with each other on speaker phone. Her husband would be on the conversation as well. Jenn and I had a joke that he was the third wheel when we were together. Jenn decided that she really wanted to be an Animal Technician, so she got her certificate from Olds College. Jenn and her husband moved to Calgary. I had graduated from the University of Calgary and was bouncing around, living in different places in the city and I wound up living with her and her husband, in their basement.
I felt that Jenn and I shared the same soul, just in two separate bodies. We often bought the same exact clothing, even if we weren't together while buying it. We'd come down the stairs of our house wearing the same shirt and then have to decide who was changing. When I moved in, she painted my bathroom and just chose the color because she knew that I would like it because she liked it. The only fight we ever had at university was a discussion about not seeing each other enough and being grumpy about it.
We shared this strange relationship (Jenn, her husband and I) because we were so close. We had a triangle relationship that worked. Living with them imprinted on me what a good romantic relationship looked like. Jenn was always present in my life and was my person. It was always assumed in our minds that we would always be a part of each others lives.
Jenn taught me compassion. She always saw the good in people. She really illustrated to me what it was like to be introverted, as I am the ridiculously extroverted one. She was the first person in my life to experience loss, as she lost her dad to cancer when we were in high school.
In 2012 Jenn discovered a cancerous tumor that wound up being attached to her ovary. She underwent surgery and they removed the entire ovary. She also had to go through chemotherapy. I shaved my head with her. It was a clear decision for me. I'd never changed my hairstyle, it was always long. We did it together and donated our hair to cancer. She went through chemotherapy for six months. It was an experience that brought all three of us together, and Bryan as well, my soon-to-be husband. I still lived with Jenn and her husband while she went through this. She hated the injections and had tiny veins so she hated being poked. I drove her to the hospital on occasion to have treatment. She went into remission after six months.
I remember sitting on the couch, Jenn was having a pretty good day and it was my birthday. Her husband was installing some curtains and asked for my help. I was like, "It's my birthday," and he looked at Jenn and she was like, "I have cancer." She maintained her humor.
Describe how the friendship ended.
In April 2014, a year and a bit after she was first diagnosed, Jenn and her husband went on a grand trip to England and Africa. Jenn really loved elephants and was very fortunate to see them on her trip. While traveling she started to feel unwell and was bloated around her tummy. When she came back she went to her family doctor and after some delays she went to the hospital. The cancer was back.
Jenn checked into the hospital a day after her 29th birthday. We ate cake and looked at baby pictures for her birthday. She was in a lot of pain. I remember Jenn and her husband telling me that they thought the cancer was back. She had blood in her pee and said, "I have bladder cancer, I'm going to die!" She had major surgery and they removed everything, her remaining ovary, her uterus, and part of her bladder. But the cancer was still on parts of her intestines and on her urethra. She developed an infection that they said was salmonella. Her spleen was freaking out and dying in her bloodstream because it had cancer in it. Then we got the news that she had tumors in her lungs that hadn't been there three weeks prior. Her brother had flown to France four days prior and I made a phone call to bring him back. She took a turn for the worst, unable to breathe and was transferred to ICU.
I remember standing in her room and listening to the doctor say that they had essentially used a bazooka treatment to keep her alive and that they couldn't do it again when she couldn't breathe. She said she didn't want to die fighting to breathe. She wanted to go, if possible, without that feeling.
Jenn was deeply, deeply religious. I am not. I'm actually not entirely sure there is a God. I have never been more grateful for her faith in my life. The day before she let go, Jenn had an evening of lucidity when all of her family and friends gathered and she shared some last words. She talked to everyone. I know that if I were in that position I would have so much fear of dying. But not Jenn, because she knew where she was going. She had to make sure that everyone else would be okay.
When she went into remission, Jenn joined the Big Brother, Big Sister program, and had a little sister through the program. The night before she died she wrote her a note and made sure that we would deliver it to her. She had made her a present too, so we had to deliver that as well.
My last memory of her, is of her looking at her husband with these tusk-like objects attached to her nose so that she could breathe, which is pretty fitting because she had such a deep love for elephants.
How did you cope with her loss?
I was in a state of shock once she was gone. We got to draw and paint on her casket and it was surreal to put soil on her casket in the ground. I just never imagined a life without her. We had all these plans to build a life together. People always tell me, well, you weren't going to build a life together because you were just friends, you weren't married. But we WERE going to build a life together. We were going to build a duplex and live next to each other. We were going to grow old together. Jenn was a part of my childcare plan, when we had kids. Jenn and her husband were waiting for me to get married so that our kids would be the same age. I so wanted to have her support when I got married and to support her through pregnancy and vice versa.
I was really angry at losing her. I felt and still feel robbed of the life we would have had together. I feel abandoned because there are things that I only wanted to share with her, things that I planned to share with her. It's this cruel irony that the person who could help me out most with my grief is the person I'm grieving. I get jealous of best friends because I lost mine. She was my soul mate.
Following in the theme of doing things for the first time with Jenn, like shaving my head, I got a tattoo for the first time about a year after her death. It reads: "Tu me manque," which translates literally from French into English as, "I miss you." But it really means you're missing from me. And that's how I feel, like a part of me will always be missing.
I read in a book entitled This is How: Surviving What You Think You Can't a passage that resonated with me: "Something new is created when the person you love dies. Because they are not the only ones who die: you die too. The person you were when you were with them is gone just as surely as they are. This is what you should know about losing somebody you love. They do not travel alone. You go with them."
I've learned deep compassion, both from Jenn and from losing Jenn. I've learned to sit with my own sadness and not to feel ashamed of that or try and fight that. I've learned to sit with people in their own sadness, because I had a few people who could do that for me, and I am incredibly grateful for that. I strive to be as courageous as she was.
I've felt really isolated in my grief and my loss because I think people don't view friendship as valuable a relationship as romantic ones. I struggle being in the same social situations and circles, just without her. I feel her absence acutely. I feel like people think that since her husband has taken big steps in moving forward that I shouldn't be grieving her as deeply still or that when I become "unbroken" things will go back to normal. But I won't ever feel the same "normal" as when she was alive. That's just not an option.
Is there anything else that you'd like to add about your friendship?
We set up a memorial bench where she would walk by our place and throw the ball for the dog. It says: "We must help others as Jenn did: even when it no longer seems possible."
I think the major thing she has taught me in death and in life is to help others. Even when you think it's impossible and really, it would be okay if it was all about you. Jenn was never like that, even in her last breaths. She was humble and giving and kind. I don't know if I will ever be like her, but I strive to be better for her. I don't know what happens in the end. I don't have faith. I just have hope that maybe, just maybe when I know I'm going to die, I'll get to see her again, even for a brief moment.