Humor Defined Their Friendship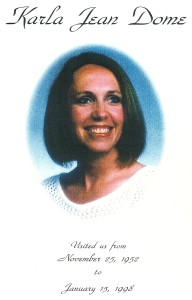 Kathy Dean: 62, divorced, 1 child
Best friend of 30 years: Karla Jean Dome, divorced, 3 children, died ... lymphoma in 1998 at age 45
"I was very withdrawn and fearful, but this woman had guts. She took me under her wing and we became best friends."
How did you meet?
We were both born and raised in Kansas and we were both one of four sisters. I moved from Meade, Kansas to Liberal, Kansas between my eighth and ninth grade years of high school. It was difficult to make friends, but my sophomore year Karla and I had a class together. She had this great smile and this devil-may-care attitude. I had panic attacks from the age of six (they weren't diagnosed until I was 35), so I was very withdrawn and fearful. But this woman had guts. She took me under her wing and we became best friends. I had just been trying to blend into the woodwork, but she got me to talking and trusting somebody. My family did not believe me about the panic attacks and they didn't want to hear about them, but I could tell her I had these fears, and she said, "Go with me, we'll be fine."
She was date raped in high school by someone very popular and so the word spread that she was easy; she got a bad reputation. Back then therapy carried a big stigma, so she didn't do that. We both had our issues: me with my panic attacks and Karla with date rape, but we were able to talk to each other and trust each other. When we were together we were in our own world. We were the first hippies in our school with the bell-bottom jeans, beads, and homemade, braided leather belts.
What was the friendship like?
In high school we partied a lot. It was a small town, so there was not much to do except drag Main Street. Then we'd go to the DJ Drive-In and talk. Music was a big thing for us. We'd listen to the new Beatles album and talk about the songs. Then we'd listen to it again.
We went to college together and were roommates. But we were young, immature and partying a lot; neither of us went back after our freshman year. She got married and had a daughter, Tara, and was tied to the house. I moved to Mississippi with my parents. We didn't see each other much, but we could pick up a phone and pick up where we left off. She had two more girls with Jim, and then she got divorced, and her funds were very limited. I got married and I had a daughter about the same time she had her third child. I saw Karla at our 10-year and 20-year reunions and when I went back to Kansas to visit relatives.
Describe how the friendship ended.
Karla and I were 45 when I discovered something in my neck. I kept telling the doctors that something was wrong. After about 11 months, I demanded an MRI. It turned out I had a tumor and it was wrapped around my jugular vein, carotid artery and some of my face muscles. At the same time, Karla found bumps on her breast bone. It was lymphoma. We talked on the phone and chatted online an awful lot at that time. I had my surgery and mine was an infection. I was elated when I woke up and they told me what it was. I even had an infection celebration!  But hers was lymphoma. They took the lumps out and did chemo.
Karla always wanted to be an engineer. This was odd for our time. In high school she loved drafting, and she took all these drafting classes and was the outstanding drafting student. That was another thing that all the guys in high school had been pissed about: how could this girl be the favorite of the teacher and the best student? She spent years taking classes and she finally got her engineering degree in her 40s. I had fallen into a career in the environmental/agricultural field that I loved and Karla was excited to get started with her career.
Finally, our kids were older, we both had a little money and we were just three hours apart. I was in Houston and she was in Waco. For years, distance and money kept us from seeing each other much, but with her cancer in remission, we began to talk about the visits and trips we would take. Her cancer progressed quickly, though, and those plans got cut short. I was so angry at how unfair it was.
When she was quite ill, I visited her in the hospital in Waco. She looked like she had been in Auschwitz. She had a port in her head and another in her breastbone and the room was 96 degrees because they were worried her blood would clot. It was clear to me that she was not going to get out of there and so I told her family, "I'm giving you a break, you take the weekend off, I'll stay with Karla"
Over that weekend, Karla just wouldn't be serious, even though she had so little time left. We laughed the whole time. Then Monday morning she woke up and said, "This is it, I'm not taking any more treatments." They had been giving her blood transfusions. I helped her to get over to a chair by the window where it was cooler. The nurse almost had a death when she walked in with blood for a transfusion and Karla said, "I don't want it anymore, I am through." The nurse insisted she take it, but I said, "Did you hear her? She said no and if you go over and try to hook that up to her, I will tackle you." The nurse called the doctor and the doctor wanted to give her chemo. Karla said, "No, I don't want chemo." I said, "Okay, you heard her, she doesn't want chemo and I will tackle you if you bring chemo."
Karla wasn't afraid of dying, but she was worried about us, our loss, our grief. I managed not to cry when I told her goodbye. Through the next week, I called the room and one time her daughter Tara answered the phone and she said to Karla, "Mom, it's Kathy," and Karla said, "Would you tell her to quit bothering me, I'm trying to die." She made it easy for everybody around her. That was one of the great attractions, her great sense of humor, even when things were going bad. When I got divorced and we were both so poor and we'd get together, we would somehow manage to cook up a big meal and it was always, "Wonder what the poor people are doing?" because we felt so rich.
Those last days I spent with Karla are some of my most memorable. We longed to get back in that '41 Chevy, hit the road, and check out anything interesting. That weekend, we were alone together in our own private world again, sometimes it was serious and sometimes it was nonsensical. Our final discussions took us to the places we had been and new places we wanted to see.
Through years of not seeing each other, the phone was our lifeline, our safe place to fall. To me, Karla was like a drug: she brought me a great relief of knowing someone understood me. How I wish Karla had lived to grow old with me to go on those adventures and feel 18 again. I wish she were here so I would have someone to listen and hear me.
How did you cope with her loss?
It takes a while to become best friends and learn to trust someone. I did become friends with Barbara, a psychotherapist who moved into the building I worked in. We have been friends for 20 years and she and I are soulmate friends. When I met her I was older and not so wild. Having a doctor of psychology for a best friend means we analyze everything much more deeply than maybe Karla and I did. I feel very lucky to have found another female friend that I can share everything with, although it's different than with Karla because our backgrounds are so different. Barbara did not rebel when she was younger. Karla and I protested against the Vietnam War, hitchhiked and took road trips in crappy cars we shouldn't have been in. I would never get Barbara to do that.
Before Friendship Dialogues was a gleam in founder Ellen Pearlman's eyes, a group of over two dozen women answered her online plea for women who had lost a female best friend. Ellen is eternally grateful to all the women, including Kathy, for opening their hearts to her and sharing their personal stories of love and loss. It was through this process that the seeds for Friendship Dialogues were planted. Thank you!