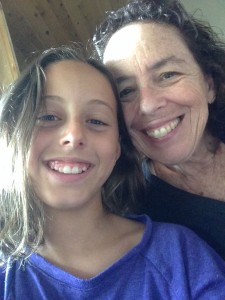 My 11-year old granddaughter Maya had a language arts homework assignment recently. She chose to write a poem on Friendship. I was particularly moved by the last sentence. Here's her poem:
Friendship by Maya Terry
Friendship what a lovely thing
It's as bright and shiny as a diamond ring
I see friendships everywhere
in the streets, on the sidewalks and even in the square
People talking, laughing and holding hands
They even play in some bands
We have our disagreements every once in a while
But when we make up we always smile
We share all our secrets
but only our friend finds the deepest
With the insight of a wise crone, she uncovered one of the essential features of a powerful friendship: a best friend understands you so well that they can delve into the treasure trove of secrets you share with them and know which is the most consequential one.
It pleases me that Maya, who was named for my best friend Madeleine, has such a profound understanding of the meaning of friendship. My 40-year friendship with Madeleine involved the sharing of many secrets. Madeleine knew me so well, she knew when I needed to talk and understood when I was removed from my emotions and needed her to draw my feelings out.
Have you read anything on friendship that touched you?