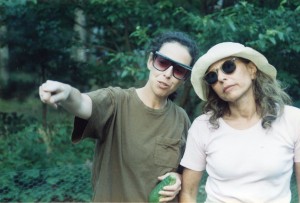 The pain from losing your best friend is very real to me. Not only did I lose my best friend Madeleine thirteen years ago, but five months later Lynn, another close friend, died from cancer. I've spent years absorbing the reality of life without a treasured sister of the heart at my side.
Since launching Friendship Dialogues I've had some revealing conversations with women who don't have a female best friend. Some lament that absence in their life, some seem content to have many girlfriends but not one special female confidante, and others bond with male friends more readily than with women. One friend captured the mixture of emotions about friendship well when she wrote to congratulate me on launching the website:
"I don't have a life-long best friend in the same way you and Madeline had for each other, so when you speak and write about your wonderful friendship, on one hand I feel a sense of relief because it is one less deep loss I won't have to bear, but much more deeply I feel jealous that you have had something in your life that I have not had, not in the same way anyway."
As hard as the grief is from losing my lifelong friend, the pain of her loss is offset by the joy I had over the 40 years we were friends. I wouldn't trade that for anything. It's hard for me to imagine going through life without a best friend. I've always gravitated to that one special female friend. At age 6 it was Carol. At 12 it was Elyse. At 18 it was Madeleine. She, of course, has turned out to be my last best friend since I know there will never be a replacement for her.
I don't know why some women seek a close connection with another female and others don't. Is there something in our makeup that leads us to bond tightly with a female friend? Or perhaps we're just lucky that another woman turns up in our life with which we can be ourselves, share our innermost thoughts and receive wise counsel and unconditional love in return.
What's been your experience? Have you been a one-best-friend kind of woman? If so, why do you think that's the case? And, if not, why not?