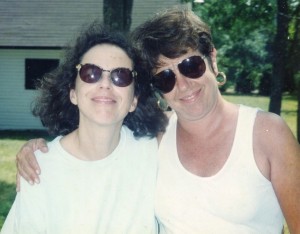 Today is Friendship Day, which always makes me pause and think about all the dear friends who are no longer with me. I fear that the number of good friends I have lost may be longer than the number of good friends who remain. I don't dare try to create those two lists since I dread the reality that they may reveal. But on Friendship Day I don't want to dwell on the sadness. I want to celebrate the joy that friendship brings to our lives.
Yesterday I read Victoria Redel's essay in the New York Times about Nance, her best friend since childhood. Nance was in the hospital being treated for lymphoma, and the two life-long friends found an activity to distract them: posting a profile on Match.com for Victoria with the hope that maybe now she could find her "big love." The story has its joy and sadness. Victoria finds her man, but Nance succumbs to her illness.
Now while this story does have a sad theme running through it, it is also about the importance of love and living life to the fullest, even if the person you most want to share life's ups and downs with is dying. As Victoria says at the end of her essay, "I would do anything for Nance, even make a life of true happiness without her there to share it." Now that's friendship!
So happy day to friends everywhere.