As Close As Family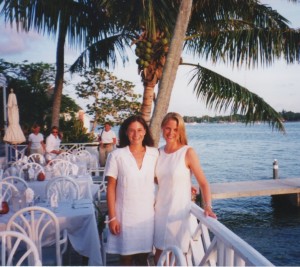 Dr. Elizabeth Hale: 42, married, 3 children, from New York, a dermatologist
Best friend of 13 years: Dr. Amy Rosenblatt Solomon, married, 3 children, a pediatrician living in Maryland, died ... sudden death due to an anomalous right coronary artery in 2007 at age 38
"We did it all together: the intensity of medical school, internship, residency, marriage and our first babies. So it was such a loss when she died. To say I still think about her every day is such an understatement. It was really like a part of me died."
How did you meet?
Amy and I met the very first day of medical school in 1994 at a reception for first-year students.  I said, "I'm sure I know you" and she said, "You know, people say that to me all the time." She was warm, familiar and easy to relate to and for the first two years of medical school we met every single morning an hour before classes started. We had the exact same breakfast at the same table of the same cafeteria during those two years. When we got a break for lunch the two of us ate together and then met again for dinner. It was very one-on-one. Everyone referred to us as  "Liz and Amy."
What was the friendship like?
We worked through every major decision together: what we were going to do with our lives, what profession we were going to pursue, who we were going to marry, when we would have our babies. Amy had such a calming effect on me; part of it was that she was a few years older than me and, in general, she never took herself too seriously.
Amy had a unique ability to read any situation and really understood people. She was an amazing sounding board. She was a good listener and gave me advice in a lot of situations. A best friend can look at a situation from the outside, see all the pieces and not have too much invested in it. It's somewhat more objective than what a husband or a family member can do.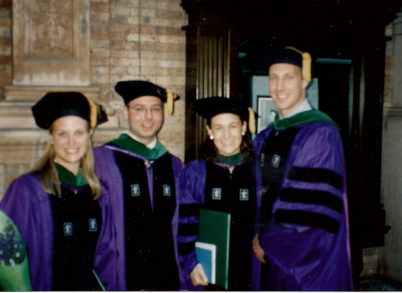 Halfway through our first year of medical school, I started dating James, a classmate of ours. Amy started dating Harris, who was a year ahead of us, in our second year. The first night Amy and I went out with them together, we were counting on them loving each other as much as we did because we knew we were going to be a foursome. We went out drinking, trying to relax, and as we were walking back to the dorms, we looked ahead and both of them had their shirts off and their arms around each other. Amy and I knew it was going to work!
After medical school, I chose dermatology and Amy chose pediatrics. Our husbands became orthopedic surgeons. Amy and Harris moved to Maryland, where they did their training and started their family, but we didn't let the distance come between us. We even went on their honeymoon with them. We were really that close. It wasn't even weird when we were at brunch the day after their wedding at Amy's parents' house in Quogue and the limo came to take the four of us to the airport. Ten years later, right before Amy died, they came with us to Bermuda to celebrate our 10-year wedding anniversary.
Any time we had a weekend when no one was on call we would visit them in Maryland. It started with just the four of us and then Amy had Jessica and then, shortly after, I had Dylan. We knew each other's kids like they were part of our own families. We would visit and spend these intense weekends as families. Ultimately, we spent at least a full week together every single year and at least five or six weekends a year. To this day this still remains true: I was just with Harris and the children last weekend.
Amy always said that the four of us were as close as family, but without issues. We picked each other, it was self-selected and we had this amazingly close relationship without any of the drama that you commonly have within families. That being said, Amy and I were both incredibly close with our families and with each others'. To this day, I am still in close contact with both of Amy's parents and her two brothers.
Describe how the friendship ended.
Everything about Amy was healthy and vibrant and alive. The day she died we were in Westhampton for the weekend. It was a very cold December day and we were driving back to Manhattan. We stopped to buy a Christmas tree. My sons, Dylan and Ryan, were asleep in the back and James was tying the tree to the roof. My phone rang and I saw a phone number with a Maryland area code that looked like a hospital number. I picked up the phone and it was Harris. He told me Amy had just died. I was shocked beyond words.
Harris had been upstairs in their house in Bethesda napping with the third of their three kids, 15-month-old James Harris (he is named for my husband and her husband). Amy had been on a treadmill working out. Her son and daughter, Jessie and Sam, were there playing. She collapsed. Jessie and Sam ran upstairs to get Harris and told him, Mommy is not speaking to us. He said, "What did you do, why is she not talking to you?" They said, "No, mommy is not speaking!" And he suddenly felt the urgency of what they were conveying. He ran downstairs, tried CPR, but her death had been instant. Just like that, in front of her children.
We knew the minute we got that call we were going straight to LaGuardia. No baggage, no clothes. We caught the next shuttle flight to Washington DC. When I walked into their house, Amy's daughter Jessica, who is like my first, I'm as close as I could be to her, just looked up at me and said, "Did you hear, Mama is dead." She was six, Sam was four and James was 15 months. I tucked Amy's kids into bed that night and I knew that as I lay in her bed reading stories I was going to be there for those children forever.
How did you cope with her loss?
I've always been a positive person, but after Amy's death I was depressed for the first and only time. As a physician, I have seen people struggle with depression. I've always felt so blessed that I have never been depressed, but after Amy died I went through a really, really bad, dark phase. I felt that it was just too unfair. I started to become critical of my other friendships and other people in my life because no one gave me what Amy gave me. I knew this wasn't fair either.
I used to speak with Amy when I walked to work. Several times a week, we would have these long conversations. The loss was so huge. I tried reaching out, I tried not to push other people out, but no one was giving me that same level of fulfillment. I realized that Amy was the one person I really opened up to. She really knew me, really understood me, and I realized there was no one I could talk to and no one who could possibly replace her. Kim, one of my friends from college, said to me, "I get it, no one will ever be like Amy." That was very helpful for me to hear because she understood that it really was a unique type of friendship.
Her death completely changed the way that I live my life. I know it sounds like a cliché, but I really don't sweat the small stuff. I feel every day as a gift now. A lot of mothers who work feel guilty, but ever since her death, I don't anymore. I realize Amy's kids will never have even one day with their mother. I adore my kids and they are my priority, but they respect that I have a career and Amy's death made me realize that there is no point being negative about all the things I am juggling, being busy working and teaching and being a mother. I'm so lucky to be doing all this and there is no point complaining or wasting energy feeling guilty. Sometimes I think, "Why was it Amy and not me? Why can I enjoy her children and her husband and not her?" I wish she could have even one day to see them.
The February after Amy died we had a big trip planned to Puerto Rico. I was nervous because usually on these trips the boys would play golf and Amy and I would have all the kids. Then Amy and I would go for a run or a massage and then the boys would have the kids. And I thought maybe Harris wouldn't want to go since it had only been a few months, but he said of course they wanted to.
I remember sitting there in Puerto Rico and having breakfast with the children who were between 15 months and six years while James and Harris played golf. I could tell people were looking at me like I was a single mother and wondering what I was doing with these five children alone. I felt so alone and so distracted. I realized that Amy would do anything to be here. It was like something clicked. I don't want to underemphasize how important the other friendships that I had were. People were really truly amazing to me – my sister, my whole family, my husband and all my friends – but it was a very internal process for me. I didn't fully open up to anybody, but at that moment I wanted to yell at people staring at us, "Their mother died, you know, stop staring at us." But I knew I couldn't do that. I had to be strong and be there for them and try not to make their vacation sad. I realized that I'm the lucky one here. I can spend my life feeling dark and depressed or I can just be as good as I can be.
Eventually, I accepted that I don't need to replace Amy. She'll always have this indelible mark on my life, my children's lives, and my relationship with her husband and her children, and it's okay. That was the acceptance I felt in Puerto Rico when I realized I'm the lucky one. I still wear her initials on my neck with the initials of my children. It's like when Kim said to me, "Most people don't have an Amy, I never had an Amy," that I realized I'm lucky to have had the gift of her for all those years. Most people don't have someone to really form their life with and to share all of the major life decisions and experiences that we had together.
I've made one new friend over the past year that I feel a real connection to. We met at a SoulCycle class at 6:00 in the morning. People who work out that early are often working moms. That alone gave us a connection. When you do this two-to-three times a week for a year-and-a-half you're connected just in the sheer fact that you both care enough to work out and get home before your kids wake up. That's how I met Holly.
My four or five closest friends are the same ones that were there for me when Amy died, but the one that's evolved the most is one of my closest friends from high school, her name is also Liz. Liz and her husband Adam spend Memorial Day weekend every year at our house in Westhampton. Harris and the kids go to Amy's parents' house in Quogue, but because their kids and our kids want to be together as much as possible, Harris inevitably ends up bringing one, if not all of them, and many of them end up sleeping over and crashing with us. Over the years, Jessie got to know my friend Liz's daughter, Katie; they are exactly the same age and they've developed a really amazing friendship over the past three or four years. Liz is a super woman and amazing friend. She and Amy never really knew each other well, but over the past four to five years, because we're so close with those families, Liz's husband Adam, my husband James (who was already good friends with Adam) and Harris have become close. So the three families now have started spending a lot of time together. Jessie and Katie go to camp together and we're all sort of one big group.
We took a big vacation together last year and the three families are travelling to the Dominican Republic this coming year. It is very nice for me to not be the only woman. Liz is amazing as a mother and a friend and she has been so great to me through this whole thing. So now Adam joins James and Harris and they'll go play golf or do their guy things. Now Liz and I will have eight children, which is a lot easier of course, the kids are older now, the youngest one is my daughter Kelly Ames (we named her after Amy, we called Amy "Ames").
Is there anything else that you'd like to add about your friendship?
Amy's legacy is her children. There is so much of her in these children, even in James who was 15 months old when Amy died. They are such good people. They have so much love and are so much like Amy. Amy had such a positive view on life and was genuinely nice to everyone. She really understood people and relationships and her children are so like her. They are so even given what they've gone through. Seeing Jessie go through life without a mother is heartbreaking, but it seems like she is the mature one, she had to mature and carry on Amy's role. She has done that so beautifully. Jessie reminds me of Amy, the way she handles any situation with ease.
My very last conversation with Amy was two days before she died. I was on the phone with her and she had just heard these two awful stories. She was shaken and said, "I just heard the most horrible things. One is a about a mother at school: we just found out that she has an inoperable, rare cancer and is dying. Another mother has leukemia, is being treated with chemotherapy in isolation, and can't even see her children. I can't believe I heard these both in the same day. Things always happen in threes; something awful is going to happen." I said, "I can't believe you are telling me this right now, I am on my way to get my first mammogram." And she said, "Liz, it's not your mammogram, everything is going to be fine. I just can't shake this feeling. All I can think about for the past 24 hours is something awful like a third thing is going to happen." I called her right after my mammogram, which was normal. She said, "I told you, it wasn't going to be your mammogram." Amy always thought things happened in threes. So obviously our last conversation completely shook me. I can never get rid of that. I still think things happen in threes.
NOTE: Amy's father, Roger Rosenblatt, wrote Making Toast a moving tribute to Amy and the story of how he and his wife, Ginny moved in with Harris after Amy died to help take care of their three young grandchildren.
Before Friendship Dialogues was a gleam in founder Ellen Pearlman's eyes, a group of over two dozen women answered her online plea for women who had lost a female best friend. Ellen is eternally grateful to all the women, including Elizabeth, for opening their hearts to her and sharing their personal stories of love and loss. It was through this process that the seeds for Friendship Dialogues were planted. Thank you!