Life-Long Role Model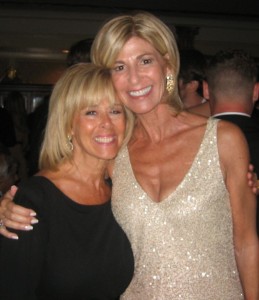 Barbara Frankel: divorced, 2 children, executive coach
Best friend of 54 years: Bryan Shore Resnick, divorced, 2 children, died ... colon cancer at age 62
"Bryan was an ever-present role model for me. People who are really important in your life stay with you."
How did you meet?
Bryan was my best friend and my sister in my heart ever since I can remember. She lived two houses away from me growing up. Our parents were friends and our mothers were business partners in interior design for 20 years. My brother Richard was friends with her sister Mindy. We were all like family.
We grew up on a wonderful street, Martin Court, in Great Neck, Long Island. All the children played together. It was the kind of street that had a neighborhood picnic every year. Bryan had two brothers and a sister and their lawn was a gathering point for all of us. Bryan was a really good athlete. I learned everything from her. Both our families belonged to the same club, the Fleetwood Pool, and we spent every sunny day hanging out together, swimming, playing knock hockey, tennis, card games, doing art.
Bryan was very outgoing. She always had a smile and was a happy person. She was young at heart, but at the same time wise and grounded. She had very good judgment and she was the person I always turned to growing up about making decisions and navigating life.
She was very close with her mother. I had good relationship with my mother, but I wasn't as close to her as Bryan was with her mother. I remember we were both developing and her mother approached her about getting a bra. She was several years older so she was ahead of me with everything. I remember going to Bryan to say, "My mom hasn't come to me, so how do I go ask her to take me for a bra?" She gave me the words to say and we practiced it so I would feel comfortable. I'm an executive coach now, so I coach people on how to have their own voice and to say something that might be uncomfortable for them to say or to ask.
My father died in his bed early one morning when I was 12; he had a faulty mitral valve. My brothers and my mother and I were all devastated. After the funeral, I just knew the best place for me to go to get comfort was Bryan's. We were only kids, she was 14 and I was 12, so what did she know about dealing with death? She didn't have anybody that ever died, I didn't have anybody that ever died, but she was Bryan. All she had to do was be with me. I could just cry and cry and we'd hug each other. I remember being in her bedroom, which was a very safe place for me because I slept over at her house all the time. It was a home away from home for me.
What was the friendship like?
We were there for each other, even though I was younger. She knew she could tell me anything. We wouldn't tell our secrets to anybody else. I was Bryan's confidant. She could tell me anything and trust that I'd hold the confidence. I had her back.
While we were growing up, I talked to her about boys and she talked to me about boys. We shared everything. We both wanted to learn how to kiss. So, Bryan and I took Kleenex and put it over our mouths so we could kiss each other. This way we wouldn't really be kissing each other, but we would be practicing how to kiss: you move your head up, you move your head sideways, like what we had seen in the movies and TV. We would both practice in the mirror and then practice on each other.
Bryan actually called me her little sister. I admired her. I appreciated her. I loved her. She was really funny and witty too. And she was gorgeous. I mean she was full of life with a huge, gorgeous smile and always the best figure of anybody I ever knew. If you could say a woman is hot, she was hot her whole life. The guys always liked her; everybody liked her because she really cared about people. She was genuine, authentic.
She also had great taste. Whatever the latest style was, Bryan was wearing it. She had a lot of style and grace. She also had a raunchy side; she was like "the everything woman." I was more "proper." She was definitely funnier. She was a great storyteller. She got to the essence right away. I developed that over time. I learned some of that from her.
Describe how the friendship ended.
She was diagnosed with stage IV colon cancer around 2000. Most people do not live 12 years after that diagnosis, but her survival had a lot to do with her incredible life spirit. She loved life and wanted to live. She had a lot to live for. She was not going to let her illness get to her. She was going to fight and do everything she could. She had this fabulous doctor who followed her all those years and monitored her care.
When she passed, I had been trying to call her for a number of days. She liked my chicken soup. She used to love my brownies. So I brought her things she'd love to eat whenever I could because eating had become difficult for her. I remember she said, "No more, I can't really eat it." I remember a couple of times I dropped off some matzo ball soup or brownies, but she didn't want to see me. In the later stages she used to do Facebook a lot and would send all of her good friends inspirational messages. So when I lost some contact at the end, I just prayed every day.
How did you cope with her loss?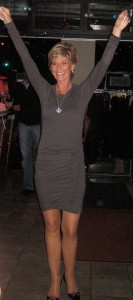 Bryan was an ever-present role model for me. People who are really important in your life stay with you. I am sitting at my desk in my home office and I have a picture of Bryan and I together at her son Zach's wedding. And then in my bedroom, I have two pictures of us together, one of her with me at her 60th birthday party. You can see her beautiful smile and the light in her eyes. And there's this fabulous photo of her with her hands raised like, "I'm here, I'm 60, I made it and I'm living life well." In between the chemo, she got to travel. She enjoyed every moment she could. She was a role model. I learned that life is precious, that every day and every moment is precious. She was a soul who lived a life with love — love for living and love for people.
I'm fortunate that I grew up with someone like her. Yes, I miss her. Yes, I'd like to reach out to her and get her counsel. But I can have conversations in my head with her and imagine what she might say to me. It's like I have incorporated within myself the wise part of her that I can access at any moment. I'm very blessed to have known Bryan.
Before Friendship Dialogues was a gleam in founder Ellen Pearlman's eyes, a group of over two dozen women answered her online plea for women who had lost a female best friend. Ellen is eternally grateful to all the women, including Barbara, for opening their hearts to her and sharing their personal stories of love and loss. It was through this process that the seeds for Friendship Dialogues were planted. Thank you!