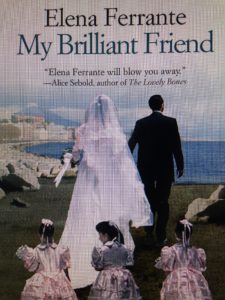 A few months ago I was browsing through an airport book shop and found my eye drawn to a book titled My Brilliant Friend by Elena Ferrante, the pen name of an Italian novelist. I flipped the book over to the back cover and found this praise from Emily Gould, author of Friendship, "The truest evocation of a complex and lifelong friendship between women I've ever read."
I was immediately sold—Ferrante was writing about female best friends, my favorite subject. At that point in time I didn't realize that this book was part of a four-book series called "The Neapolitan Novels" and that I was in for an intense and beautifully written saga about friendship, family, violence and the changing fortunes of Naples.
The four books chart the friendship between Elena Greco and Lila Cerullo that began with their meeting in first grade. Elena writes the stories as an adult after she learns that Lila has disappeared. Each of the books charts a different period in their lives, starting with childhood and ending when they are in their sixties. Ferrante casts a magical spell and I was drawn into Elena and Lila's intense relationship. Sometimes deeply connected and other times at odds and barely speaking, their friendship crests and ebbs through six decades.
At times it felt to me as if the feisty and unpredictable Lila had cast a spell over bookish Elena who was dependent on her friend for her inspiration, creativity and confidence. Yet it was often Elena who had to pull her friend out of her despondency as she suffers through a violent marriage, separation, economic insecurity and eventually the loss of her child. The fortunes of the two friends rise and fall, as if they were riding a seesaw.
I devoured these books. They were addictive and as I finished one I eagerly ordered the next. It has been a few months since I finished the last book and I find myself frequently thinking about the two women and their friendship. I didn't admire their friendship. It often felt unequal and imbalanced. While real-life friendships do have ups and downs, this storybook one had too many gaps for me. It would leave me feeling unfulfilled. But while I wouldn't want to trade my idea of friendship for the reality of theirs, I do highly recommend reading their story. It is haunting and it swept me away to a different time and place. There are many different kinds of friendship, but there is no doubt that the relationship between Elena and Lila was the pivotal bond in their lives. And that is something I can clearly relate to.